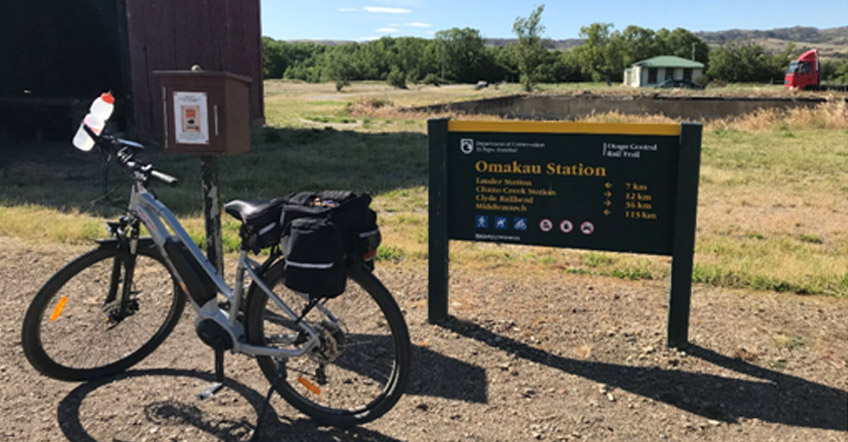 DESCRIPTION
Omakau is a small farming town located in the Central Otago region of New Zealand, situated 28 kilometres north of Alexandra, on state highway 85, and is a popular overnight stopover for users of the Otago Central Rail Trail.
The town was originally founded in the early 1900's when the railway line was opened in 1904 to open up access to this large farming area.The Omakau station site is now empty, but may have once been New Zealand's busiest stock loading location.
Omakau's main attraction is the Otago Central Rail Trail. Other attractions near to Omakau include historic Ophir (just 2km's from Omakau), and Matakanui ghost town.
---
LOCAL ACTIVITIES
There is always something to do here! Talk to us for advice on local activities to help make your stay something special.
SWIMMING
There are great swimming holes in the Manuherikia River (as well as great fish!). Ask us and we can point you in the right direction.There is also a swimming pool at the Omakau School.
GOLF
Golfing is available at The Omakau Golf Club located just a two minute drive from Nicky's Place, on Alton Street. It is a 9-hole golf course, with club & trundler hire available.
HUNTING
If you are an avid hunter, Omakau and Central Otago have a wide variety of wild animals – including pigs, rabbits, goats, deer, ducks and quail.
Duck shooting season begins in May.Hunting in New Zealand requires a valid hunting licence and a valid firearms licence. You can obtain a hunting license from Fish & Game New Zealand and a firearms licence from the New Zealand Police. You must then have your licences with you whenever you are hunting or carrying assembled hunting gear.
FISHING
We are located really close to the Manuherikia River, which is great for freshwater fishing and swimming. The Taieri River is another nearby river, also great for freshwater fishing – especially trout fly fishing.
Freshwater fishing in New Zealand requires a valid fishing licence. Fishing season opens on the 1st October, and ends on the 30th September.  You can obtain a fishing licence from Fish & Game New Zealand. You must then have your licence with you whenever you are fishing or carrying assembled fishing gear.
OFF TRAIL HOURS
Off Trail Tours (four-wheel guided Tour company) in Central Otago's heartland will lead you to discover rugged golden tussock landscapes and spectacular mountain vistas.
Tours include:
Curling tours to Naseby with options of museum tours.
Gold panning and low land tussock tours.
Informative guided tours of St Bathans and the Blue Lake.
---
EXPLORE THE NEARBY HISTORY GOLDMINING TOWN OF OPHIR
Ophir is another historic gold mining town, located just 2 kilometres from Omakau. The town was established around 1863, and has many historic buildings, many of which are protected by the Historic Places Trust.
Historic places include the Courthouse, the Policeman's House, the Cottage Hospital, the Bank, the Union Church and the Post Office.
A popular walk is "The Loop" which takes you through the township and across the old suspension bridge.